Fundraisers
Thank you for supporting the Bands of Kings Local School District. Because of you, our Marching Band fees are 50%-70% lower than some other local school districts, partly because of all the financial support we receive through donations. Also, because of you, KBB is able to offer financial aid scholarships to around 15 students per year so that they can participate in Band and Guard.
Whether you had your car washed, donated to the band kid who knocked on your door, purchased items from the annual Winter Guard Garage Sale, joined us for breakfast at BandCakes, or attended any of our restaurant fundraisers you helped make a positive impact in the life of Kings students. Thank you!
PayPal Giving Fund
Through the PayPal Giving Fund, anyone can make a tax-deductible donation securely, online. Click on the "Donate Now" button and make your donation.
DinE to Donate
Dine to Donate is a way for the KBB to fund raise through local restaurants. Just dine at a participating restaurant, and that restaurant will donate a percentage of the bill to the band.
Past participants include Buffalo Wings & Rings, Red Robin, Chipotle, Frisch's, Brixx Wood Fire Pizza, Old Bag of Nails, Noodles World Kitchen and more!
Follow us on Facebook to see the latest participating restaurant!
View Our Other Fundraisers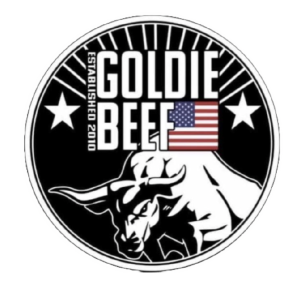 Purchase tickets all season long!
Drawing held on November 6, 2023 at 7:00 pm

Kings High School Stadium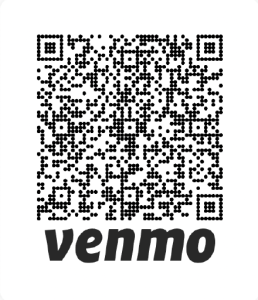 Beef Raffle
NEW fundraiser for 2023! Be one of FOUR grand prize winners of a quarter grain fed, free range, farm raised cow from Goldie Beef. (That's approximately 175 lbs. each!)
TICKET COST

HOW TO PURCHASE TICKETS
CASH
Find your favorite band member or come to the HOME football games – we'll be in the stands ready to accept your cash and hand you a physical ticket.
VENMO
Search for @KHS_Marching_Band or scan the QR Code to receive your virtual ticket.
In order to receive your ticket, you must include your name, phone number, and "Beef Raffle" in the comments. If Venmo asks you to verify the last 4 digits of the phone number when making the payment, the code is 0596.


THE DRAWING
The four grand prize winners will be drawn during the Community Night Performance at the Kings High School Stadium on November 6, 2023 at 7:00 pm.

ADDITIONAL DETAILS
The winner does not need to be present to win.
No repeat winners.
Winners will be contacted directly by Goldie Beef to arrange pickup.
Cuts will be evenly distributed in each portion.
Download a copy of the flyer here.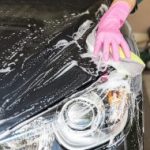 Stay tuned for
2024 dates!
10:00 am – 1:00 pm
Landen LaRosa's
Car Washes
Thank you to the Landen LaRosa's location for allowing us to hold our car washes in their side parking lot at the corner of Columbia Road and 22 & 3.
Bring all of your cars and let the hard working Kings Band kids make them shine!
Donations happily accepted in any amount! Thank you for your support!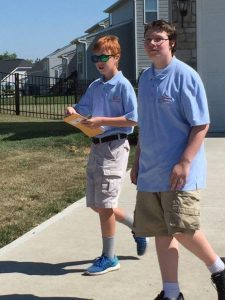 Stay tuned for
2024 date!
Tag Day
Be on the lookout for members of the award winning Kings High School Marching Band! They'll be canvasing neighborhoods throughout the day, gratefully accepting donations to help cover the rising cost of travel, uniforms, music fees, and equipment.
Kings Marching Band Alumni: Want to donate but don't plan to be home? You can mail in a donation to KBB P.O. Box 10, Kings Mills, OH, 45034.
No donation is to big or too small! Cash and checks are accepted.
Donations are tax deductible (we're a 501(c)(3) non-profit organization) and all donations directly impact the students who perform in band and bring school spirit and crowd entertainment to lots of games and events.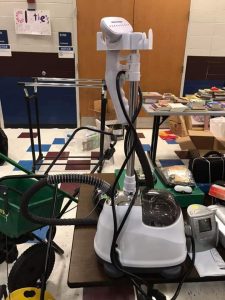 Saturday,
February 10, 2024
8:30 am – 2:00 pm
J.F. Burns Elementary
Winter Guard Garage Sale
and Valentine Themed Bake Sale
Whether you donate or shop, this garage sale fundraiser serves a valuable purpose – supporting the Color Guard and Winter Guard.

DONATIONS NEEDED!
We need you to clean out your garage and attic and donate to our fundraiser! All donations are tax deductible. We will accept Small Furniture, Housewares, Clothing, Toys, Collectibles, and Much More! (All donations must be in good working order, please.)
Donations may be dropped off at the J. F. Burns Cafeteria beginning at 6:00 p.m. and will be accepted until 9:00 PM. Please come to door A-5.
Contact Person: Jennifer Maegly – jmaegly@kingslocal.net 513-398-8050 X 16045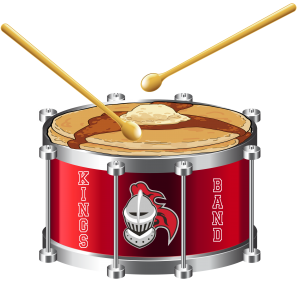 Stay tuned for 2024 dates!
7:30 am – Noon
Kings High School
Pat Cope Memorial Bandcakes
BANDcakes is a morning where band parents and students prepare and serve hundreds of pancake breakfasts to community members and supporters while they are entertained by talented Kings Band students. The event was the dream of Kings Band parent Pat Cope. Pat researched and organized every aspect of the inaugural event, creating a legacy for Kings.